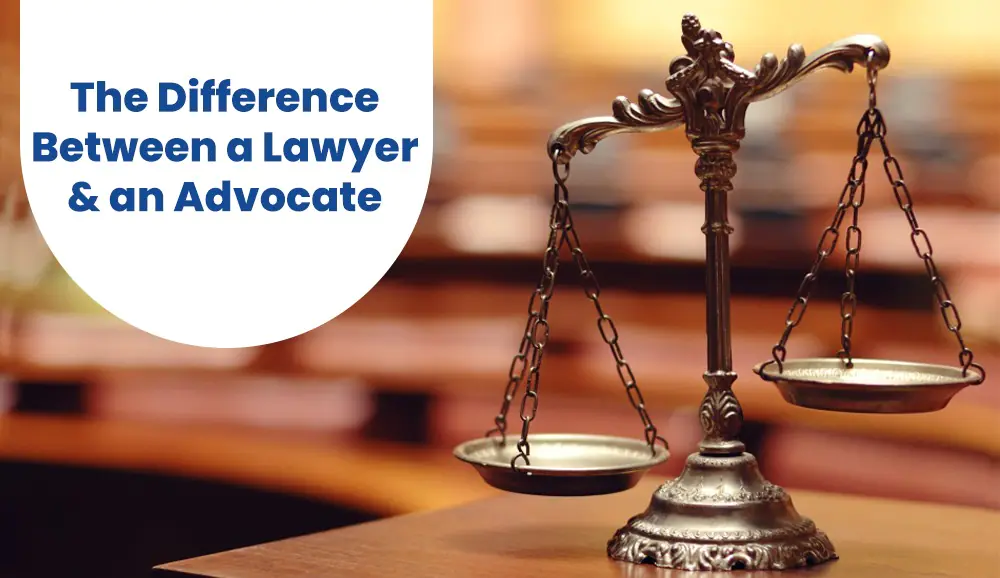 The Difference Between a Lawyer & an Advocate
If you think about it, you'll be amazed to realize how many television shows and movies you've seen about lawyers! But let us clarify, no matter how hard they try, most fail to portray the true subtleties of the profession. After all, being in the legal profession is not merely about wearing suave suits to court and looking elegant. We at the B. S. Anangpuria Institute of Law, recognized as the top law college in Faridabad, can vouch for the fact that the legal profession is far more than that, and there's a lot to know and learn about!
Wondering why are we saying this today? Well, your job as future lawyers will be to provide justice! It's a sacred profession wherever you go. As such, it becomes important for you to see to it that you maintain the profession's integrity by being aware of its nuances. For example, one of the most fundamental ones is the difference between a lawyer and an advocate.
We know many of you would have thought they were the same, didn't you? If you did, let us assure you that the answer is a resounding no! So, let us, from the B.S. Anangpuria Institute of Law, enlighten you about this fact in this article today. Let's read on and see how the two terms actually differ from each other!
Lawyers and Advocates: Clarity with Facts
Before we get into in-depth details of our today's topic of discussion, we would just like you to know that while all Advocates are Lawyers,not all Lawyers are Advocates!
This means that while a Lawyer is a broad term, an Advocate is just a category under it. Now, as stated earlier, there are notable differences between a lawyer and an advocate. Let's have a glance, shall we?
Firstly,

Lawyer: A Lawyer is a generic term, which is used to designate anyone in the legal profession, including solicitors, barristers, and attorneys.
Advocate: An Advocate is a professional specialized in court proceedings, either pleading for compensation or release, depending on the nature of the case.
Secondly,

Lawyer: Lawyers need to enroll in their state bar council and appear for the All India Bar Exam if they want to plead cases in court.
Advocate: When lawyers pass the AllIndia Bar Exam, they receive the designation of advocates and provide representation to clients in courts.
Thirdly,

Lawyer: Unlike advocates, who have many years of experience and have been in the field for a long while, lawyers are recent graduates who need more time before they can be entrusted to represent clients proficiently.
Advocate: Advocates are generally considered to be more effective than lawyers, as they are experienced in multiple legal domains.
Fourthly,

Lawyers: A lawyer can provide legal counsel and advice but cannot represent clients in court.
Advocate: Having expert legal knowledge, experience, and the necessary skills, Advocates represent their clients and plead on their behalf while trying to get the best possible verdict for them.
Lastly,

Lawyers: The standard compensation and incentives for lawyers are relatively lower than the advocates because most of them don't possess the requisite knowledge and skills to be able to litigate in court. For instance, while the average annual salary of a Lawyer in India is around 3.5 Lakhs per annum, the average annual salary of a Legal Advocate stands at around 5 Lakhs per annum.
Advocates: An Advocate's expertise, skill set, and ability to attend to a wider array of legal matters enable them to charge much more than lawyers.
A Future That Prints Prosperity
Although a profession that has existed forthe longest time in our country, the legal profession is something that many covet. It has never fallen out of vogue and never will. In fact, the future in the profession is so bright that once you attain the necessary experience and skills, you'll never have to regret your career choice. You can click here for further proof that, in time, this career will provide a comfortable and prosperous future for you and your family.
Thus, if you have been thinking about pursuing law as your career, we at the B. S. Anangpuria Institute of Law would like to suggest you to assess your skill set and interests and confidently take the plunge. We, as one of the top law colleges in Faridabad, are right here to offer you the necessary guidance and mentorship and instill you with the right mindset and skills that will come to your aid in churning out huge successes in your professional life ahead.
---
Related Posts
---